Course Details
Process Innovation and Design

Course Description
The Process Innovation and Design course follows a systematic innovation roadmap, as featured in the best-selling book, "The Innovator's Toolkit", to identify intractable problems or unmet needs, generate novel and unusual ideas, analyze the most promising concepts, develop robust solutions, and test the end product or process. This course offers you the opportunity to work on real business challenges with guidance from innovation experts. With a hands-on, applied focus, this course teaches innovation and design thinking in a workshop environment that focuses on redefining innovation from a black area to a systematic problem-solving science.

Delivery Mode:
Virtual Lab
Methodology:
Innovation
Duration:
32 hours
CEU Credits:
3.6
Course Overview
Learning Objectives
Upon completion of this course, participants will be able to:
Solve business problems using a variety of innovation and design tools.
Understand how the outputs of some tools flow as inputs into other tools along the chain of innovation and design.
Identify unarticulated customer needs and get to the heart of your innovation and design dilemmas.
Discover alternative solutions using innovative problem-solving tools.
Develop ideas into solutions and demonstrate success with prototyping and piloting.
Apply a roadmap for innovation and design to solve business problems with measurable success.
Pre-requisites
Pre-class reading assignment
Who Should Attend?
Anyone who needs an innovative approach to problem-solving, or to new product, process or service design.
Expert problem solvers and Lean Six Sigma practitioners who desire more knowledge, skills and tools.
Candidates enrolled in the Lean Methods Group Master Black Belt or Lean Master program.
Professionals in R&D, product development, product management and marketing.
Detailed Course Information
Unlike most creativity courses that focus only on idea generation and design courses that focus only on refining existing ideas, this course teaches you a diverse set of tools within a complete roadmap that takes you from problem identification to ideation to implementation to commercialization.
The Process Innovation and Design course follows a systematic innovation roadmap, D4 (Define, Discover, Develop and Demonstrate) to identify unmet customer needs, generate ideas to fulfill those needs, analyze the most promising solutions and test the end product/process. It enables you to do this within a purely innovation context, or as an enabler to your Lean Six Sigma program or project.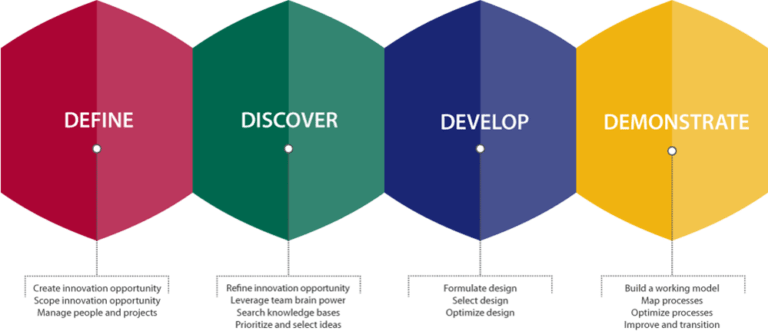 D4 Pipeline: Define, Discover, Develop, Demonstrate
This course offers you the opportunity to work on a real business issue with guidance from the innovation experts behind The Innovator's Toolkit: 50+ Techniques for Predictable and Sustainable Organic Growth. As a participant, you'll learn the authors' unique approach for innovating and designing new products, services, processes and business models.
Techniques learned and applied in this course include but are not limited to:
DEFINE
Jobs To Be Done
Outcome Expectations
Ideal Innovation
Job Scoping
Kirton Adaption-Innovation
Nine Windows
DISCOVER
Resource Optimization
Random Stimulus
Imaginary Brainstorming
Structured Abstraction
Concept Tree
Six Modes of Thinking
DEVELOP
Function Structure
TILMAG
Morphological Matrix
DEMONSTRATE
Mistake Proofing
Prototyping & Piloting
With a hands-on, applied focus, this course teaches innovation and design tools in a workshop environment—complete with interactive lectures, practice exercises for each tool, simulations, and individualized mentoring on your real problems and challenges. You'll practice solving mini problems and case studies throughout the course and apply the full spectrum of thinking and tools to solve a bigger problem toward the end. 
There are 20 PDUs available for this course.
Agenda
Innovation Roadmap
Job to be Done
Job Scoping
Outcome Expectations
Cognitive tools
Resource Optimization
Creative Challenge
Advanced Brainstorming techniques
Separation Principles
Function Structure/Morphological Matrix
System Requirements
System Requirements: Internet connection with modern browser
Operating System: Microsoft Windows (7 and higher) or Apple Mac OS X
Display Properties Setting: Minimum 1024 x 768 screen resolution
Recommended Browsers: Chrome, Firefox, Safari, Edge
For the best experience and optimum security, we recommend that you keep your browser up to date.
Legacy browsers with known issues:
Internet Explorer 10 and below
Safari 7 and below
Note: the course content requires that any pop-up blocker be disabled
Cancellation Policy
Lean Methods Group reserves the right to cancel or re-schedule courses and to change instructors. We will do our best to ensure you are aware of changes six weeks prior to the course start date. Please be advised that in the event of a course cancellation, Lean Methods Group is not responsible for airfare penalties or other travel-related expenses you may incur.
While we recognize the need to cancel due to unforeseen events, we kindly ask that you consider the other students in this course when cancelling your enrollment. We ask for six weeks advance notice so that we may fill your spot and ensure a fun class for the other students.
Requests for cancellations/transfers received at least six weeks before the start of the course receive a full refund/transfer to another workshop
Requests received within four weeks of the course shall receive a 50% refund.
After the course starts, there are no refunds or transfers.
Registrants who fail to attend without advance notice are liable for the entire course fee.
We can transfer your course fees to another Lean Methods e-learning or instructor-led course of your choice.
You must successfully complete the entire course or program before IACET CEUs, PDUs and a Certificate of Completion can be awarded.